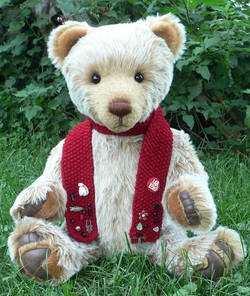 Atticus is a big, friendly 22" bear made from a lovely frosted-butterscotch colored faux fur, with inner ears and paw pads in short-pile mohair with leather details. He has black glass eyes, an embroidered brown nose, and subtle shading on his face. At four and a half pounds, he is a hefty, huggable armful, and he wears a hand-knitted and embellished red neck scarf which he thinks is quite fancy.

Atticus' design is inspired by real bears, but as you know, realistic bear designs are not what I specialize in. He has what I consider to be a slight flaw: At the back of his neck, the faux fur is not quite long enough to cover the joint where his head meets his body. A bit of the peach-colored felt that I used inside this natural-looking (non-gathered) neck joint is visible, though hidden by the neck scarf.

For that reason, and because he's a wonderful bear in all other ways, I'm offering Atticus at a substantial discount—hoping that his price is attractive to someone who wants him very much. His price is $250, and shipping for this big fellow will be $40 (Standard Post) or $60 (Priority) in the USA, and significantly more internationally. Please contact me to ask any other questions you may have.
ADOPTED Thank you!




---